When I got told that all of the emotions I'd been feeling, and all the mood swings and insomnia and anger was probably being caused by Borderline Personality Disorder; all I remember is feeling more angry. At the world, and at myself, and at my therapist. I felt better knowing I had somewhat of a reason, something that might make me fit in with other people, something I could research to make me feel less alone. But the anger overtook it, as it usually does, and I ended up feeling so angry that the world had cursed me with such a horrible illness that I just got even more depressed than I already was.
When I started therapy that was more focused around my mood swings and emotional outbursts, the first thing they told me was that therapy for Borderline Personality Disorder is focused around one simple technique. It was to feel the emotions that I was feeling, and then to let them go. They always told me to make sure I still felt things, that I let myself understand and feel the things that crept up on me in the middle of the day at Tesco. Then I'd be expected to let them go, wherever that may be, just not in my head.
I was good at the feeling, not so much at the letting go. Even though it was easy to convince myself that I had let them go when I was browsing the cereal aisle, later that night it would become evident that they hadn't fully disappeared. I was putting the emotions in the figurative cloud, but then holding onto the cloud so that it couldn't float away. It was causing me to resent people around me, any small situation that happened I would blame myself and the other person involved for months on end. The emotions from one argument would never leave, they would just linger in the clouds that were now surrounding my head. The clouds were gradually getting darker and darker, filling up with more negativity and more unhelpful thoughts.
The breakdown of any interpersonal relationships, or arguments with loved ones were the worst. Every single argument, I would hold onto every angry thing that the other person said, everything that they never meant in the first place would swarm around my head like angry bees constantly. I could not let things go, surely if they said that, they must mean it? Why would they say something they don't mean? That's completely illogical. God forbid a relationship ended, or a friendship fizzled out. That really was the end of the world, every piece of blame would either go on me, or on them, or I would split it equally between us so that I could be angry at more than one person. I couldn't understand how other people thought, why they acted in the way they did, why they would say the things that they did.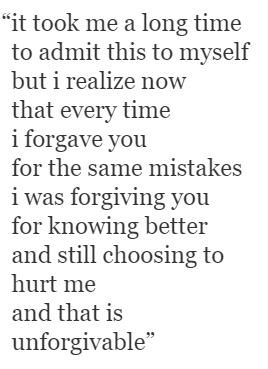 It was like this for 4 years. That's a long time to be angry at everything, to feel suffocated by your own thoughts. Now looking back on it, I realise that I probably wasn't even angry at the particular situations that were happening, I was just so overwhelmed by all the negativity surrounding me that I couldn't fathom positive thinking or optimism in any sense of the words. It was a sad existence, and I don't blame the people that left me during that time period of my life. I would have left me too. Nobody should have to deal with that.
I went through a break up recently. The most significant break up of my life so far, which really says something about me considering it was only 2 years long. We had organised a lot of things for a future together, and gone through a lot of things together which I was slowly learning to let go of as they happened. He helped me to understand myself through the stuff he did which made me go back to that place. It started happening more often, and I started to realise the things that would trigger me back into my cloud swarm. I started to learn how to avoid them. I walked away. I took a breath. I meditated. I spoke to people. I thought about what I said before I said it.
Today is the first day I've felt fully free from those clouds. I had an argument with somebody, I walked away and I sat in silence for a while, and when I came back? I had let it go. It had truly gone, any emotion of anger or bitterness or sadness that I had felt in the argument had gone. I wasn't angry at the other person anymore, I just felt sad for them. I felt enlightened by what I had taught myself. I just felt so free from who I used to be, who I was back then. There is nothing better than that.